Ok people, things seem to be bordering close to insanity. The main culprit here is work or the lack of it. So here I am trying to explain how I got such a wierd name for the Blog. (Not the Calabi Yau space part).
[Start Nostalgia]Im one of these typical "hilly billy" kind of guys who is in love with anything that resembles a hill. This is mainly attributed to being brought up for 20 splendid years in the Nilgiri Hills.[/End Nostalgia]
So fo all those wondering what the Nilgiri Tahr is, the picture below should throw some light: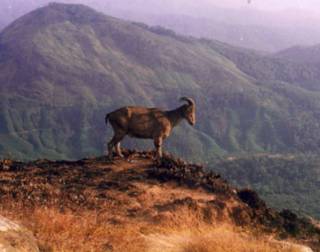 The Nilgiri Tahr
The Nilgiri tahr (Hemitragus hylocrius)is a stocky goat in which both sexes have a short, coarse pelage and a bristly mane a few centimeters long, in contrast to the male Himalayan tahr which has a long, shaggy mane on the shoulders, throat and chest. The pelage of sub adults, females, and young males is dusky brown to grey-brown in colour except for a whitish abdomen and a dark brown band that runs down the length of the back.
Nilgiri tahr are found only along the Western Ghats in South India, and even within this small area they are mostly confined to the crest of the range, usually at altitudes of over 1,200 m. It is thought that tahr once ranged through most of the Western Ghat (Davidar, 1978), but current populations are distributed between the Nilgiri Hills in the north, and the Tiruvannamalai Peaks in the south. The largest population of the Nilgiri Tahr is however found in the
Eravikulam National Park.